Happiness
I have been in a rut recently. Don't worry, nothing to worry about too much, just not as happy-go-lucky as I am normally. Despite some great times and surrounding myself with wonderful people, I've been returning to a baseline that is simply not where it should be. My plan is to purposefully over-correct – check back for updates in this area.
Blogging
You may have noticed I have been blogging less recently. This isn't a conscious effort or because I have been abnormally busy, rather it appears to be a lack of inspiration. Less crazy ideas are popping into my head, and the ones that are aren't being acted upon. Heck, even the few posts that I have started sit unfinished.
Idiots
Less blogging and less happiness? Sounds like blogging leads to happiness. Or if not, happiness causes people to blog. Wrong, that's what idiots would say. Data geeks will quickly let you know that correlation does not imply causation. What do you think, is there any causation here? Does it flow both ways, and if so, are there limits or will it just continue to snowball until I'm spending every minute blogging and loving it?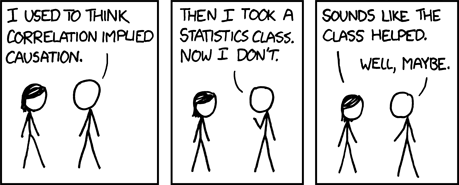 ---
Along with the over-correction in happiness, I'd also like to over-correct in my return to blogging. Just hang tight!
Something else for the data geeks to check out – Uberdata: How prostitution and alcohol make Uber better
Photo: D. Sharon Pruitt